– CM Punk has been spotted! Punk and long time friend / wrestler Colt Cabana was spotted at last night's Chicago Hawks – Dallas Stars hockey game. The Hawks literally beat down my Dallas Stars last night and it was wrong. How does Punk get such great seats? Well maybe because he is a big star and has some serious cash.
The game was indeed in Chicago and you check out the photo down below: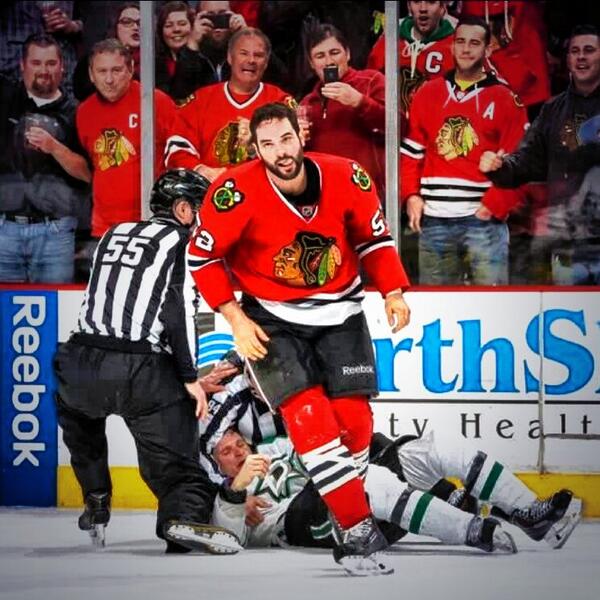 – Here is today's schedule for the WWE Network:
8am EST – Legends of Wrestling – Celebrities
9am EST – RAW Flashback – 7/19/1993
10am EST – RAW Flashback – 7/26/1993
11am EST – Royal Rumble 2014
2pm EST – WrestleMania Rewind – WrestleMania X
3pm EST – WWE Countdown – Biggest Blunders
4pm EST – WCCW TV – 2/26/1983
5pm EST – SummerSlam 2012
8pm EST – Old School – 10/19/1986 The Summit in Houston event
9pm EST – Best of RAW – 2/17/2002
11pm EST – Old School – 10/19/1986 The Summit in Houston event.
– Here are Friday's confirmed WWE SmackDown matches:
The Shield (Ambrose and Rollins) vs. 3MB (McIntyre and Mahal)
Damien Sandow vs. Sin Cara
Fandango vs. Goldust
Batista vs. Sheamus
The Bellas vs. AJ Lee and Tamina
Jack Swagger vs. Jimmy Uso
Mark Henry vs. The Miz
The Big Show vs. Bray Wyatt
Andrews Take: Smackdown looks like a miss-able show. We have full spoilers on the main news board, it just felt like this is all filler instead of a must see show. Things can change from paper to TV and we will see. Mike Smith will have a review of it this Friday night.
Tags: CM Punk Colt Cabana Smackdown